Cinderella + MASS + John Corab
This event occurs in the past, Aug 10 2011
Hampton Beach Casino Ballroom

Back in 1986, when a man's poodle hair was as tall as his rock-star aspirations, spandex was a way of life, and glam albums like Night Songs could eventually go triple platinum, Tom Keifer stressed he was "nobody's fool." Twenty-five years later, with 20 million albums sold, he and Cinderella are back to remind us. This is no washed-up, triple-band, retro summer tour — it's a no-frills (ok, maybe a few frills) rock band rocking the eff out.
powered by
performers
There are four artists called Cinderella. 1. A glam metal band most known during the 1980s. They were formed in Philadelphia in 1982 by vocalist...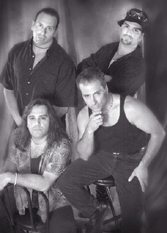 Founded in 1983, this dedicated hard rock band from the Boston area has had numerous...

John Corab
Add Comment
HTML Prohibited

More Events at Hampton Beach Casino Ballroom